Don't Judge a Phone by Its Cover: Inside the BlackBerry 10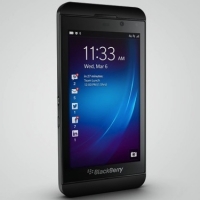 On Wednesday, the world saw something new—well, mostly new. RIM, soon to be BlackBerry, unveiled the long-awaited BlackBerry 10, their somehow first touchscreen phone. But, some are wondering if the company's late entry into the game, while not without a significant challenge, could actually help BlackBerry separate itself from competitors—and perhaps even surpass them.
With touchscreen technology a given for any new product hitting the shelves, BlackBerry 10 does feature this, finally, though the company will release its "Q10" model later in the year with a full QWERTY keyboard for those still loyal to this somewhat antiquated phone feature.
Everyone knew BlackBerry would ultimately join the touchscreen phone market. Back in October, word began to get out what other features their new phone would offer, though not much excitement was created with such limited and even expected info.
In today's smartphone market where, honestly, most phones look exactly the same (see last year's Samsung vs. Apple patent wars), what smart consumers are more concerned with is what's under the hood.
While BlackBerry's phone won't be available in the US until March, the company's official launch on Wednesday has many people listening and maybe even considering coming back to their once loved "CrackBerries." At the very least, this anticipation is something that RIM had been failing to achieve each year that previous models grew older.
This week, UK gadget news site Pocket-lint took a very close look at BB10, BlackBerry's new operating system. Pocket-lint discovered that, while the company remained very true to what made people originally fall in love with their BlackBerries, they also smartly took advantage of adopting some of the qualities of Androids and iPhones that millions of others love as well.
If there's any one product that the BlackBerry 10 most resembles, it's probably RIM's PlayBook tablet, a device still selling strong, though not as strong as some reports this week might have you believe. Both devices rely heavily on gesture-based commands, something that users may be shy to learn but will ultimately give users easier access than can be found on competitors' devices.
Perhaps the biggest and most deeply buried selling point of the BlackBerry 10 is that its OS is built on QNX. Again, similar to the PlayBook whose OS is also built on QNX, the Blackberry 10 has the ability to communicate with other devices, switch between processes, and receive large format messages at real-time speed.
For the most in-depth coverage you're likely to find anywhere—and to be fair, also the most biased—the reviewers at Crackberry.com fully break down the new OS and not surprisingly have given it stellar reviews.
No matter where your mobile device loyalty lies, we all win with greater competition among developers. So here's to another legitimate entry into the field.
Are you looking forward to the arrival of the BlackBerry 10? Does "the company formerly known as RIM" have a chance to again compete with the likes of Google, Android, and Apple? Let us know in the comments below!
Up Next