From Jeff Bezos—A Valuable Lesson on Competition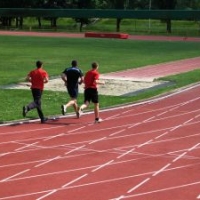 Amazon and Jeff Bezos collectively continue to have valuable lessons to share with all of us—whether it is about what makes Bezos a hit CEO or what makes Amazon march fearlessly as a leader in several diverse domains despite some of the disputes on its name.
In the list of such lessons they offer, here is a recent one from Bezos that particularly caught my attention. This is very valuable to us in whatever phase or walk of life we are in. Bezos recently addressed a group of children at his children's elementary school. The session was well-attended and included the CEO of Zillow, Spencer Rascoff (his child attends the same school). Rascoff tweeted some points from Bezos's talk, one of which I will elaborate on here:
Who succeeds at amazon? "Explorers and pioneers". Who fails? Those who focus on killing our competitors. -Bezos
Large organizations such as Amazon and Google continue to emphasize the importance of research and development, encouraging it at an "every employee" level rather than relegating it to just their R&D groups. Bezos highlighted this at this talk, but he also talked about what it takes to fail at Amazon—a focus on killing competitors.
Competition is something we all are definitely wary of, whether it is a school pupil comparing his performance to that of his peers, or a parent comparing her child to another, or an employee comparing himself to a coworker, or even two competing organizations being compared to each other.
The crux of this message is very important. Bezos is not saying no to competition. Unless there is healthy competition, the marketplace will be driven to a monopoly situation, which impacts quality of service, user experience, and product enhancements.
All important to further improve one's offerings is knowing what others offer, how to understand competition, and what one's own strengths and weaknesses are. For example, when it comes to performance testing, tests should not merely record the metrics of a product's performance—they should take into account competitors and how the product stacks up against them, as well.
What's important is drawing a balance between taking cues from competitors and letting them mind their own business while you pursue your own. There continue to be posts about why one should ignore competition. If this were the case, would we have had an Android in response to the iOS or a Bing in response to Google?
Understanding what competition has to offer often helps you learn to further improve yourself, but the important part is not to be too engrossed with just a goal of pulling the competitors down. That is the line beyond which the positivity of learning from them is lost and negative forces enter that impact your own productivity and creativity. This is the essence of Bezos's message: Those at Amazon who focus on killing their competitors are the ones who fail.
Up Next