Attention, Word Nerds: We've Got New Dictionary Entries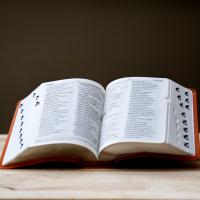 If you're in technology, there's a good chance you know that working in the "gig economy" involves the use of temporary or freelance workers. And if you're a parent, you're probably struggling with limiting "screen time" for your kids. Sports fans will probably recognize "garbage time," but do you think "stan" is a good thing? How about "EGOT" (winning an Emmy, a Grammy, an Oscar, and a Tony)?
If you are unsure about using any of the above words for fear that your audience won't know how to interpret your intent, now they can go ahead and simply look these terms up in the dictionary. They are among the more than 640 new words that were added to the Merriam-Webster dictionary in April. They are in addition to the more than 840 new entries added in September.
There are always new words cropping up in our everyday conversation. If you're unsure about what's regarded as approved usage, know that the lexicographers at Merriam-Webster are constantly at work. How is a word included in the dictionary? According to the blog, the editors monitor as words move from specialized contexts to mainstream usage and make citations to draft the definitions. 
Of course, there's always new ways to use existing words in the English language, and those make their way into the dictionary as well. Beyond a description of a manifestation of cold, wet weather, snowflake now can mean both "someone regarded or treated as unique or special" and "someone who is overly sensitive."
Nonetheless, instead of using explanations, comparing the unfamiliar to the familiar is another tried-and-true methodology to explain the unknown. The Sideways Dictionary is a crowd-sourced tool from Google's Jigsaw technology incubator and The Washington Post that gives easy-to-understand definitions of technology jargon using analogies and metaphors.
For example, here's one of the analogies given to explain agile software development: "It's like finishing a ship while at sea. You first get the minimum you need to make it float: a hull and maybe a mast. Then, instead of finishing it before you launch, you go ahead and launch it and finish building it while it's at sea. This way you have to focus on the most important things."
As for explaining what a virtual private network is: "It's like a tunnel, not an open road. If you're working remotely, it's like having a secure tunnel to your office, carrying the information back and forth, safe from prying eyes."
If you're looking for reading material, choose your dictionary options and learn something new every day.
Up Next