Earth's Startling Changes Shown via Timelapse by Google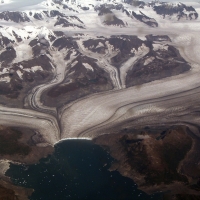 With Timelapse, seeing is now believing.
We can watch the rainforest vanish in Brazil's Rondonia or Alaska's Columbia Glacier melt or Dubai grow up from the desert—all taking place from 1984 to today.
In a stunning and poignant visual perspective of how the Earth's surface has altered in just a quarter of a century, Google worked with the US Geological Survey, NASA, and TIME magazine to compile and release into an interactive time-lapse experience more than thirty years' worth of images of Earth taken from space. 
NASA and the US Geological Survey jointly manage the Landsat Program, a series of Earth-observing satellites that have taken specialized digital photographs of Earth's continents and surrounding coastal regions for more than four decades, providing an unbiased view with standardized scientific data to enable tracking changes to our planet. 
Google took these static images to the next level. Rebecca Moore, engineering manager, Google Earth Engine & Earth Outreach posted on Google's blog:
We believe this is the most comprehensive picture of our changing planet ever made available to the public…We started working with the USGS in 2009 to make this historic archive of earth imagery available online. Using Google Earth Engine technology, we sifted through 2,068,467 images—a total of 909 terabytes of data—to find the highest-quality pixels (e.g., those without clouds), for every year since 1984 and for every spot on Earth. We then compiled these into enormous planetary images, 1.78 terapixels each, one for each year.
These images, built from global, annual composites of Landsat satellite images from 1984 to 2012, along with background, are presented in TIME magazine's new Timelapse project:
Retreat of Alaska's Columbia Glacier

Deforestation of the Brazilian Amazon 

Urban growth in Las Vegas

Spread of coal mines in Wyoming

Sprouting of Dubai's artificial Palm Islands

Saudi Arabian desert becomes irrigated and crop circles sprout throughout the terrain

Drying of Lake Urmia, Iran

Drying of the Aral Sea, Russia
In an accompanying essay, "TIME and Space," Jeffrey Kluger writes:
These Timelapse pictures tell the pretty and not-so-pretty story of a finite planet and how its residents are treating it — razing even as we build, destroying even as we preserve. It takes a certain amount of courage to look at the videos, but once you start, it's impossible to look away.
What do you think?
Up Next