Oracle Partners with Rivals Microsoft and Safesforce in Cloud Deal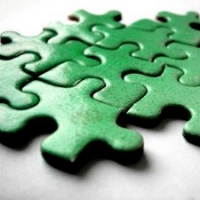 Technology giant Oracle cast aside feuds with competitors Microsoft and Salesforce to announce partnerships with the companies to integrate their cloud operations.
Oracle, which has seen some business drop, is looking to regrow by expanding sales of cloud-computing products, a fast-growing area in technology, aimed at businesses moving their software online.
The surprising decision to join forces wasn't a surprise. After Oracle's lower-than-expected fourth-quarter earnings disappointed last week, CEO Larry Ellison said he would make a "startling" announcement this week about an alliance with the two software-as-a-service companies.
A press conference with Oracle President Mark Hurd and Microsoft CEO Steve Ballmer unveiled their partnership plan to target customers who'd like more compatibility between products. With this pact, Windows' Azure cloud-computing service will run Oracle's database software, Java programming tools, and application-connecting middleware. Oracle also will let customers use their current software licenses on Azure.
While Oracle has long been the name in customer-relationship-management software for businesses, Salesforce became a rival when the company began offering competing, cloud-based software that streams online, without customers needing to maintain servers.
Add to the drama that Salesforce CEO Marc Benioff worked at Oracle for years and that he fired Ellison, Oracle's CEO, from the Salesforce board of directors—and a feud began. (A few years ago, Ellison even ordered Benioff pulled from the stage of an Oracle event in San Francisco where he was about to give a speech.)
But apparently the hatchet is buried, and Oracle and Salesforce agreed to a nine-year partnership in which Salesforce will use the Oracle Linux operating system, Exadata engineered systems, the Oracle Database, and Java Middleware Platform. Oracle plans to integrate Salesforce with its Fusion HCM and Financial Cloud and provide the core technology to power Salesforce's applications and platform.
So, what are the ramifications of these unions?
"This deal gives Microsoft clear competitive advantages against two of its top rivals," said James Staten, an analyst at Forrester, in a blog post. It also "gives Windows Azure near-equal position against Amazon Web Services in the cloud platform wars."
Another Forrester analyst, John Rymer, agreed on his own blog about this being a smart move for Microsoft: "With this licence, Microsoft can finally offer Java as a preinstalled, first-class environment on Windows Azure as well as its Hyper-V virtualisation software. … As a result, we expect to see much wider usage of Windows Azure for a wider range of Java applications."
Bo Lykkegaard, research director for European Enterprise Applications at IDC, told V3 that the deal was very much a "marriage of convenience" for Oracle and Salesforce.
"For Oracle, it's a big sale, because now any Salesforce customer will be using Oracle data centers and transaction tools," he said. "It's a great reference customer, too, so they can look to sell their applications to those companies using Salesforce."
Basically, all companies appear to be happy with the alliance, and have good reason to be.
To further demonstrate their rekindled friendship, Ellison and Benioff will hold a press conference for media and analysts on June 27 to outline details of their corporations' new partnership.
Up Next