Google Impact Challenge Awards Take on Disabilities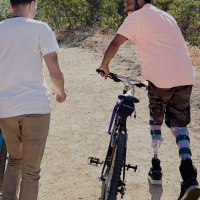 Clean water accessible in remote regions, drones to thwart poaching endangered animals, and managing chronic disease in at-risk patients through analytics and messaging. These are just a few technologies in the past that have received funding and resources through Google's Impact Awards, which go to tech teams attempting to solve some of the world's problems.
Now Google has launched an Impact Challenge with a focus on helping people with disabilities. Grant funding of approximately $20 million will go to nonprofit organizations using emerging technologies to help create a more accessible world for people with disabilities. Here are some of the criteria:
A really "Big Idea." If your idea is successful, how would the lives of people with disabilities be significantly different in ten years?
Transformational technology. The technology should enable a different approach, whether it's new development or using existing technology in a different way.
Scalability. Can the idea affect large numbers of people?
The deadline for submissions is September 30, 2015, and entries are accepted on an ongoing basis.
Project advisors are: Temple Grandin, Professor of Animal Science, Colorado State University and well-known autism advocate; Catalina Devandas Aguilar, UN Special Rapporteur on the rights of persons with disabilities; and Vint Cerf, Google VP & Chief Internet Evangelist.
According to the World Health Organization, approximately 15 percent of the world's population lives with some form of disability. Many think in terms of disabilities that are obvious, such as someone in a wheel chair or using a prosthetic limb. But not all impairments are evident at first glance. Hearing loss, children on the autism spectrum, chronic pain, or mental illness are sometimes referred to as invisible disabilities and can make life challenging, even overwhelming.
To kick off the project, Google awarded the Enable Community Foundation a $600,000 grant to assist in the design, distribution, and delivery of open-source 3D-printed upper-limb prosthetics. For a look at the technology, here's a video of a young boy named Liam and some of the first 3D printed prosthetics he received.
Up Next