Agile Dojo: Speed Up Delivery Using Focus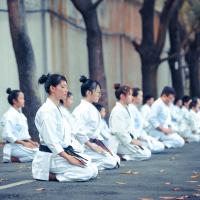 Last summer, Team Data reached out to me after being tasked with the impossible: Complete Product A, from database through beta testing with customers, in less than eight weeks. No problem, right?
Enter the Agile Dojo. An Agile Dojo is an immersive learning experience where teams bring their own work into a collocated space and work together to complete a project, using "hyper-iterations" of two-day sprints, over six weeks.
Team Data wasn't entirely sure what a dojo was, but they knew something new and different that would help them gain focus and be able to deliver the product on time sounded like a great solution.
We met on a Monday, and as we established the team working agreement, they promptly changed their team name to 99 Problems and were determined this impossible Product A would not be one of them!
Team 99 Problems carefully crafted an elevator pitch, a vision board, and a customer journey map within the first two days of the dojo. Day three they spent creating a story map, including all the work they planned to accomplish in six weeks (now five and a half weeks). The work was further divided into the two-day hyper-iterations. The team embarked on their first sprint on a Thursday.
They were able to accomplish all this even as they were distributed across multiple time zones, states, and countries. We created a collocated space for each office, invested in quality communication devices and applications, and created a coaching practice specifically for the dojo concept.
I acted as the team's full-time agile coach to help with process over the six-week dojo. The first three weeks, the agile coach heavily facilitates and directs the team through the hyper-iterations. The second three weeks, the agile coach observes while the team drives the hyper-iterations and continues to facilitate biweekly retrospectives.
In two weeks, all the work on the story board was completed.
How were they able to do it?
The entire team designed and planned the big picture together
A working agreement was created to ensure group collaboration
The elevator pitch created focus, and all work items were reviewed to ensure they added value
The team members paired to ensure quality code, which shortened the time needed to test
Managers left the team alone for six weeks to complete the project themselves
Demos were shown every two days to elicit feedback from stakeholders
Planning included both work on the board and feedback received
If this team could deliver early, and on budget, using the dojo framework, then why aren't you using the Agile Dojo concept for your priority projects?
Christina Ambers is presenting the session Enter the Agile Dojo at Agile + DevOps East 2019, November 3–8 in Orlando, Florida.
Up Next