Supporting Scrum: Adopt before You Adapt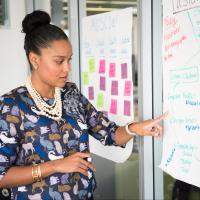 Scrum is a fairly minimal agile process framework that you can adapt to work best for your team. But sometimes teams adopting Scrum take the idea of adaptation too literally, and "adapt" the process so that it is simply a veneer on top of their existing process.
Adaptation works best once the team has internalized the principles and values of the Scrum process, and gaining an understanding of a different way of working takes practice and experience. In other words: Before you start trying to adapt Scrum, first try fully adopting the framework.
A common example of premature adaptation during Scrum adoption is a team deciding that Scrum events won't work for them as prescribed. Planning meetings get shortened or don't include the whole team, sprint backlogs contain more work than the team can commit to, review and retrospective meetings get skipped, and daily scrum meetings become status meetings—or, worse, other status meeting aren't removed from the schedule. In short, the team has events with the same names, but they won't be informed by Scrum values.
This is a bad idea, as modifying these events prematurely will at best result in the team gaining no value from Scrum, and at worst result in worse performance as the hybrid approach adds unnecessary overhead.
The reasons teams tend to want to alter Scrum during adoption vary from organization to organization, but two factors almost always come into play. First, any change is hard and requires work and learning, and in times of stress, people revert to familiar behaviors. Also, Scrum is easy to learn but difficult to master. There is more to Scrum than simply following some of the Scrum events. Everyone on the team needs to be disciplined about making sure that they are doing what they can to help the process work well. 
Because Scrum changes the dynamics of the development lifecycle, it is best to adopt Scrum practices before you adapt them. The practices as recommended will help you understand the value in a new way of working.
Resist the temptation to customize Scrum until the team has a sense for how the practices add value and support Scrum principles. Follow Scrum by the book—literally, in the case of the Scrum Guide or, if you want more guidance, one of the many excellent books on Scrum—for at least three to five sprints. And be certain to allow time for retrospectives, so everyone can explore how the process is affecting collaboration and delivery, thus providing an "aha" opportunity as people see the behaviors the Scrum framework enables. 
If you truly believe that you understand Scrum values, feel free to adapt out of the box. But do this with caution. Since Scrum is a very different way of working than most organizations are used to, most teams need practice to understand the value of the principles first. Having a good baseline to adapt from is best.
Up Next