Getting the Most from a Virtual Event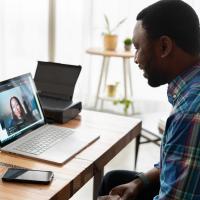 It's been a year of virtual everything - meetings, conferences, meetups, even parties.  And while we are all exhausted with the idea of attending yet one more virtual "something", it's not going away any time soon.  More than that, there are even some real advantages to attending events virtually (beyond the obvious social distancing answer). Virtual events allow you to attend (without shame) in your bunny slippers, there is no travel hassle or cost, and you can sneak out for a bathroom break without disturbing fellow attendees. In addition, the recorded nature of virtual events allows you to slow down, rewatch things that you might not have gotten the first time around, or even break up the content so you are not trying to absorb everything at once. 
So ok, virtual events do have value, but in order to get that value, you need to treat them with the same reverence you would a physical event.  Here are a few suggestions on how to do that:
Block the time on your calendar during the event so others will not try to set meetings during that time.

Review the program prior, figure out what you want to focus on the day of the event.  Having a backup talk for the same time period is also a good idea in case you get into a session and it's not what you thought it was going to be.

Don't multi-task.  It might seem a small thing, but once you have split your focus, you are no longer really absorbing what is being said in the virtual event.  Sure you can go back and rewatch it, but is that optimizing your time?  If you are too busy to give it the time it deserves during the live event, watch it on-demand when you do have the time to commit.

You are still at work, so keep the distractions to a minimum.  Close the door to your office if you have one, or listen through headphones to really focus on the sessions and learning.

Take notes - on paper, on your phone, on the computer, whatever.  You don't have to be a stenographer, but taking notes allows you to ask yourself questions, distill content for your particular situation, and give yourself follow-up tasks that you might otherwise forget about.

Give yourself stretch breaks.  Periodically, you need to get up, get the blood flowing and keep your energy up enough to stay engaged. 

Take advantage of the virtual networking opportunities at the event.  Just like at a physical event, many virtual events offer networking opportunities. It's a great way to meet speakers, explore what others are doing in the space, or just talk one on one with another human being for a little bit. You can also engage with others using the chat feature in the event platform or on social media using the event hashtag. Any way you slice it, networking and engaging with others during the event allows you valuable opportunities to learn new things, meet new people, and maximize your experience.

Curate at least one takeaway to bring back to your team. There's bound to be a lot of great ideas floating about, but probably limited bandwidth within your organizational resources.  Get incremental, and commit to taking at least one new idea or process back to the team.
When you prepare in advance to make the most of your virtual event experience, you are making an investment in your growth. And really, what's a better investment than that?
Up Next