Team Agility in a Post-Pandemic World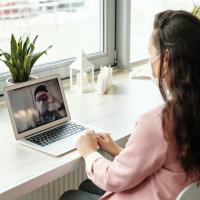 Agile development teams traditionally have preferred colocated employees, inviting distributed team members into virtual workspaces when necessary. This approach has been invalidated by COVID-19 and the necessity of entirely remote work environments.
Organizational leaders need to embrace a new outlook in four critical areas: execution, communication, collaboration, and empathy.
Remote Execution
Thinking about a post-pandemic world, there is a high probability that social distancing will continue for a while, so it is imperative for teams and companies to adapt to the new norm of remote work.
The biggest difference is defining explicit deliveries and measuring performance based on how team members meet them. Managing agile development in distributed work environments requires a thoughtful and deliberate approach.
Impactful Communication 
For distributed agile workforces, particularly where team members set their own hours, open and impactful communication is critical. There isn't opportunity for hallway conversations or breakroom chats in a remote world, and this necessitates implementing digital twins of these social activities.
Daily standup meetings, spindowns, and retrospectives can be arduous to replicate in remote teams spread across different time zones. Tools that facilitate communication in asynchronous workflows can help. Additionally, ensuring a consistent cadence of traditional communication methods, such as meetings, open forums, tech briefings, and newsletters, helps permeate information throughout the organization.
Quality over quantity will disseminate the message effectively. Where possible, use infographics, dashboards, charts, or visual indicators to showcase value.
Remote Collaboration
Another challenge is ensuring effective collaboration during pair programming, iteration planning, research, or architecture discussions. Conferencing and screen-sharing tools are new additions to the standard developer toolset, but it's not just a matter of providing software for team members; they also need productive spaces within their homes.
This involves high-speed internet, virtual private networks, comfortable office furniture, and other things that can facilitate long hours of remote pairing. Leaders need to have open conversations with their teams about establishing personalized productive spaces.
Employee Empathy
For many organizations, the move to working remotely would have been challenging enough on its own, but it's exacerbated by the fact that this shift is borne out of necessity rather than choice. Many people are also cohabiting with others who do not adhere to the same rules or schedules, so frequent context switching is inevitable, further increasing stress.
Therefore, it is futile to expect the same level of productivity, throughput, or velocity. Leaders are encouraged to communicate their expectations of lower delivery and to emphasize the importance of psychological safety for team members. Demonstrating empathy and enabling people to focus on their loved ones will not only endear leaders to the workforce, but also pay cultural dividends in the long run.
A New Form of Agility
People the world over have had to inspect the foundations of working, adapt to a new way of remote execution, and integrate their personal and professional lives more than before.
But agile methods continue to favor the empowerment of people. Organizations that focus on communication, collaboration, and growth with empathy as their core tenet will pioneer the new way of team agility in the post-pandemic world.
Gautham Pallapa is presenting the session The Lean Agile Diet: A Healthy Way to Transform Your Enterprise at the entirely remote Agile + DevOps Virtual conference, June 8–11, 2020.
Up Next